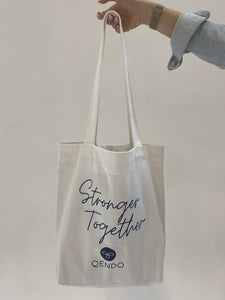 We really are Stronger Together at QENDO!
Our premium tote bags feature single sided printing with the quote 'Stronger Together' in our signature QENDO font, as well as our logo in navy. They are the perfect grab and go bag for the markets, the gym or yoga studio, or even to carry extra things to school, uni or work. 

Every sale of our 'Stronger Together' totes helps to raise much needed funds for QENDO, to assist us in continuing the work we do with providing support, education and awareness for those living with endometriosis, adenomyosis, PCOS or infertility. 
Why we love the Stronger Together Tote:
+ Reinforced shoulder straps
+ 100% cotton canvas 
+ 42cm x 42cm 
+ Signature QENDO font and logo 
+ Raise money for those living with endo, adeno, PCOS and infertility