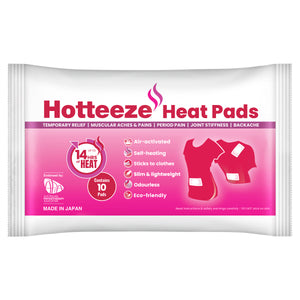 Pack contains 10 individual Heat Pads
Self-heating
Ideal for pain relief (heat therapy) and comfort
Up to 14 hours continuous heat
Environmentally friendly
Hotteeze Heat Pads are perfect for those times when you need a steady supply of heat. Use Hotteeze to comfort tired muscles. Take them outdoors or anywhere you'll feel the cold.
Drug-free pain relief using heat therapy
Air-activated
Self-heating
Sticks to clothes
Slim & lightweight
Odourless
Heat therapy can provide temporary relief for:

Muscular aches & pains
Joint stiffness
Backache

Up to 14 hours of heat
Eco-friendly

 

– our specially formulated heat granules can be tipped out onto your garden and used as a soil conditioner
• Pad size- 132mm x 100mm
• Max. temperature 63°C
• Made in Japan
• Endorsed by the Australian Physiotherapy Association*
Contains 10 individually-sealed Hotteeze Heat Patches.
Each pad measures 132mm x 100mm
Always read & follow the instructions for use & health warnings. If symptoms persist, talk to your health professional. Do not stick directly on skin.
The APA is receiving commercial consideration for the endorsement of Hotteeze.