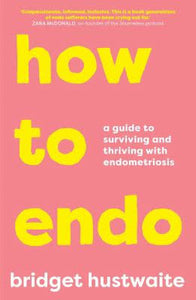 How to Endo - A Guide to Surviving and Thriving with Endometriosis
After years of dismissive doctors and misinformation, Bridget Hustwaite was relieved to finally receive a diagnosis for her intensely heavy periods, pulsing headaches and the excruciating abdominal pain that made her ovaries feel like they were on fire. She has endometriosis - hard to pronounce, hard to diagnose and even harder to live with.

The further Bridget has travelled along the endo path - including two excision surgeries and the building of an endo community on Instagram - the more she's realised how much endo sufferers have to self-educate and self-advocate just to have their pain seen and acknowledged. With her trademark enthusiasm, Bridget has blended her personal experience with a raft of tips and tricks from health experts and endo warriors to help you thrive whenever you can, and survive on days when you just can't. Covering everything from diet to acupuncture, fertility to mental health, and surgery to sex, Bridget's guide to navigating this sucker punch of a chronic illness will make you laugh and cry and empower you to be proactive about your endo journey.

Inspiring, vivacious and completely honest, How to Endo is a book for everyone on the endo spectrum - the battle-hardened warriors, the newly diagnosed and those still searching for answer.